If you are considering joining us, contact our Membership Team, who will be happy to hear from you and discuss how we can help.
Check if your institution is already a QAA Member.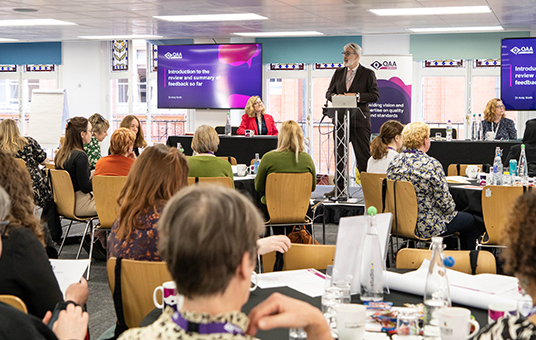 We really value our QAA Membership. It helps us calibrate our approach to quality with the sector and, crucially, provides timely opportunities to explore new national developments with colleagues.
Peter Watson, Academic Registrar, University of the Arts London
Eligibility
Membership is available to higher education providers who are:
a legal entity registered or established in the UK, and delivering UK qualifications at Level 4 and above of the FHEQ or Level 7 and above of the SCQF
subject to one of the following: review by QAA; the quality or regulatory arrangements that apply to higher education in one of the UK nations; the oversight (for example, through a formal collaborative partnership) of a provider which itself is subject to the quality or regulatory arrangements that apply to higher education institutions in one of the UK nations; engaged in a contractual service with QAA's Assessment Services within the last three years.

Further information about eligibility for membership is set out in our Membership Agreement document. This is published along with the terms and conditions of QAA Membership on each UK nation's page.
How much does QAA Membership cost?
In Northern Ireland, Scotland and Wales, universities and colleges within the regulatory frameworks are automatically members. The full membership package is included in the annual fee for your provider.
In England, membership is voluntary and fees take account of how many higher education students a provider has registered and whether you have chosen an enhancement package. Details of the annual membership fees are published are published below.