At the heart of QAA Membership is a strengthened partnership with UK higher education, delivering services, expertise and guidance on key issues that are important to the sector and students. More than 270
UK higher education providers
have chosen to be QAA Members in 2020-21.
We work with, and for, our members to deliver high-quality services that:
help to maintain and enhance UK higher education's global reputation for excellence
assure the standards and quality that are at the heart of the reputation of UK higher education
enhance the academic experience of students wherever they are in the world.
QAA Membership supports our members to improve quality and secure standards by giving exclusive access to expert advice, insight and valuable resources based on our extensive expertise.
We both support and challenge our member institutions, in enhancing the quality of their higher education provision, to give their students the best possible experience. We do this through the delivery of relevant and dynamic enhancement activities for each nation, UK-wide, informed by international practice and participation.
To find out more about the many membership activities planned for 2020-21, across our key areas of interest, have a look at our Membership Calendar. This month-by-month guide is updated regularly to include links to event booking sites and published resources.
QAA Membership is for your whole organisation
Everyone with an institutional email address can access our exclusive Membership Resources site: students and students' unions, academic staff, quality professionals, senior leaders, data and planning teams, international teams, and governors. You can find out more on our Membership Resources page.
Membership structure
The QAA Membership model was launched in June 2019.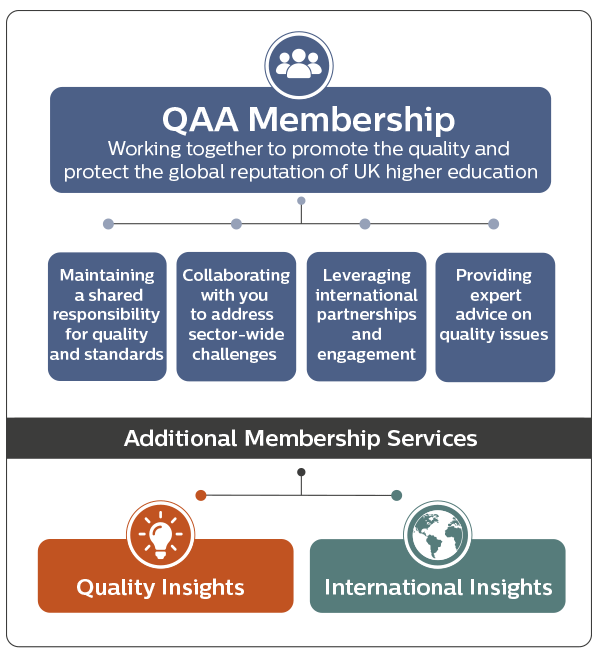 &nbsp
Core Membership includes the essential elements that all UK higher education providers need to deliver high-quality outcomes for their students and ensure that UK higher education maintains its reputation for excellence.
Quality Insights and International Insights enhancement services focus on the practical application of the frameworks, guidance and projects developed and delivered through Core Membership.
Membership across the UK
In England, membership of QAA is voluntary, and our work to enhance quality and protect standards in England is funded solely through membership fees.
Institutions in Northern Ireland, Scotland and Wales benefit from access to all areas of membership as part of the agreements with the sector, funders and regulators in their devolved administrations.
Visit the relevant page for more information about membership in each nation.
Review of Membership 2019-20
We have published a summary document and film for the 2019-20 QAA Membership year, highlighting the many services we delivered to our members.
Contact us
For further information about QAA Membership, please contact our dedicated Membership Team.
Visit our Become a Member page for details of how to join.