Education for Sustainable Development (ESD) can be understood as a lens that permits us to look critically at how the world is and to envision how it might be, and equips us to deliver that vision.
ESD develops competencies - skills, attributes and values - and how they link to subject knowledge and knowledge of sustainable development.
ESD supports learners across all academic disciplines and subject areas to create and pursue visions of a better world. A world that recognises the interdependence of environmental integrity, social justice and economic prosperity, while acknowledging that environmental resources are finite and provide the foundation for our society and economy.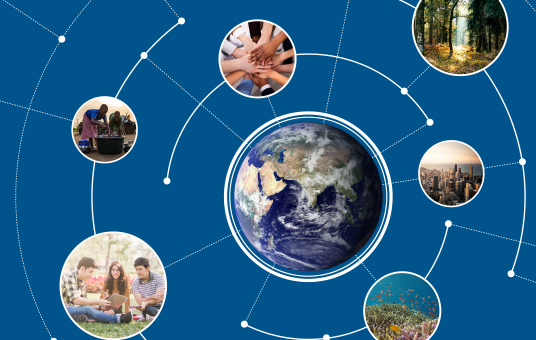 ESD Guidance 2021
How was the guidance developed?
In March 2021, QAA and Advance HE launched revised guidance intended to help UK higher education institutions incorporate ESD within their curricula, following on from the first edition in 2014.
QAA and Advance HE brought together a group of experts representing academic, business and student communities, with the aim of supporting all students to acquire the skills necessary to develop values and take actions to transition society towards a sustainable future. The guidance gives advice and support on curriculum design, as well as teaching, learning and assessment approaches.
Who is the guidance for?
This guidance is primarily aimed at staff involved in curriculum design and course management and delivery, to support them in designing ESD into their courses. However, it is also likely to be of value to senior management teams, those with responsibility for quality assurance and enhancement, and staff involved in directing teaching and learning. It may also prove useful to staff responsible for extracurricular activities.
How to access the guidance
An Executive Summary provides an overview of the content, with the full guidance available for any staff member or student at a QAA Member institution on our Membership Resources Site. Also available for members is a resource to support students in engaging with their institution about ESD.
For QAA Members
Education for Sustainable Development Guidance
Publication date: 29 March 2021
QAA Members can read the full ESD Guidance on our Membership Resources Site.
For QAA Members
Education for Sustainable Development: Starting the Conversation - Student Resource
Publication date: 4 June 2021
Students at QAA Member institutions can use this resource to actively engaging with their institution and students' union (or equivalent student representative body) about ESD.
Practice Guides
QAA and Advance HE are curating a series of practice guides designed to support institutions to enable Education for Sustainable Development. These short, practice-based case studies are intended to inspire others through providing practical examples of activities from single workshops to long term community engagement projects.
QAA members can access the practice guides on our Membership Resources Site.
Video - What is ESD?
This video outlines what ESD looks like within the higher education sector. It also suggests how students can support this work within their own institutions, linking to other useful sources of information.
The video was launched at QAA's Evolving Student Engagement Conference and provides a taster of ESD and how students can encourage their institutions to progress the sustainability agenda.