QAA announces Vicki Stott as Executive Director of Operations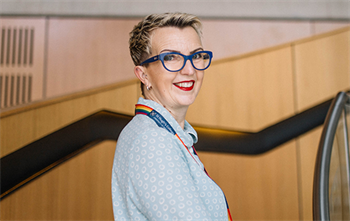 We are pleased to announce that Vicki Stott has been appointed as our new Executive Director of Operations (Deputy CEO).
Vicki brings a wealth of experience from a career in senior university leadership. She joins QAA from St. Hugh's College, University of Oxford, where she has been Bursar since 2012. She has also held roles at the Universities of Birmingham and Warwick, and at UMIST.
Executive Director of Operations (Deputy CEO) is a new post at QAA, created following its recent transformation programme and restructure. Vicki will lead QAA's operational delivery, including the new membership services launched in August 2019. In addition the role will have oversight of all QAA's activity across the UK and Europe, as well as its international and commercial services and operation as the Designated Quality Body in England.
Vicki will start in her new role on 5 November 2019.
Vicki Stott said: "I am delighted to join QAA at a pivotal point in the organisation's development. QAA stands as champion for academic standards and quality across all four nations of the UK and, increasingly, internationally. This role gives me an exciting opportunity within QAA's new structure to deliver its quality assessment activities as well as its enhancement, guidance and best practice work across the UK higher education sector. I very much look forward to working across the UK's different policy landscapes to embed the new model, helping students have the best possible experience in the UK's world class higher education system."
QAA's Chief Executive, Douglas Blackstock, said: "We are delighted to welcome Vicki to QAA. She brings with her a wealth of knowledge and experience working in higher education. QAA has transformed to meet the needs of a changing sector, and Vicki will play a pivotal role in shaping and developing our new offer to all UK institutions offering higher education."