International Day of Action for Academic Integrity

Dr Mary Davis, Oxford Brookes University, UK/ICAI Board of Directors
I had the great joy and privilege of co-hosting the International Day of Action for Academic Integrity on 18 October 2023 with Rachel Gorjup, University of Toronto Mississauga. Those familiar with the annual event will recall previous iterations under the title of International Day of Action Against Contract Cheating, but last year we were able to change the name to give the day a broader, more positive scope which I think the event succeeded in doing this year.
The Planning Committee - which includes 3 members of the QAA UK Academic Integrity Advisory Group: Thomas Lancaster, Irene Glendinning and myself - chose the theme of 'Championing Academic Integrity in the age of AI' so that the event focused on promoting academic integrity, while at the same time recognised that we needed to situate it in our current context of AI this year. A number of clear themes emerged across the day: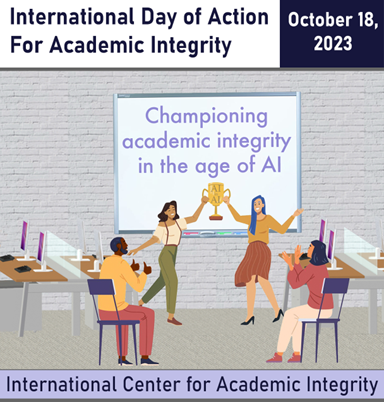 Positive and ethical use of AI by students
We had five fascinating student panels during the day involving a total of 32 students at institutions in New Zealand, UAE, Nigeria, Turkey, Czechia, UK, Canada, Mexico, Guatemala and Chile. One theme they were all keen to discuss was using AI in positive ways as a tool for learning, for evaluating their draft work, for initial brainstorming and for final checking. Our student panels were enthusiastic about giving advice to other students about AI, raising awareness of ethical use and avoiding using AI to replace their own work.
Teaching practices about academic integrity (including AI)
As our International Day of Action was designed to share good practice and support the teaching and learning community, a number of sessions presented ways of teaching about academic integrity and AI.
Dr Jamie Cawthra from Bloomsbury Institute London presented a highly engaging interactive Menti discussion activity from the QAA funded Collaborative Enhancement Project that we had worked on together: The improvement of student learning by linking inclusion/accessibility and academic integrity. Jamie drew attention to inclusive and accessible approaches to Menti discussions and adapted the existing resource with some topical questions about AI use. Similarly, Dr Liz Newton from London South Bank University concentrated on advice for staff to try to foster good practice, rather than going on 'fishing trips for breaches'. Dr Brenda McDermott from the University of Calgary, Canada presented a framework for evaluating different AI interfaces as learning tools, reminding us that tools do not have responsibility and that we have to take responsibility to train them for our use.
Challenges and changes
A number of sessions addressed the need for change. Dr Monica Ward from Dublin City University discussed her innovative work in creating interactive oral assessment as an authentic way to test student knowledge, addressing the current concerns about the appropriacy of assessment. Burcu Özge Razi from Cannakale Onsekiz Mart University, Turkey presented her 'Wind of Change' model to examine ways to nurture AI within learning development. One of the most powerful sessions of the day was given by Dr Tricia Bertram Gallant of the University of California San Diego who argued that now with generative AI, everyone, staff, students and institutions, needs to employ the courage to change the way we teach, learn and assess.
Concerns about privacy, terms and conditions, legal matters related to AI
A further popular theme of the day related to legal matters and AI. Prof Ann Rogerson from the University of Wollongong, Australia started the day with a stirring talk about the need for staff and student training to check terms and conditions of AI and any software or company that they are using, since the majority of people never check them. In their discussion, Dr Thomas Lancaster from Imperial College London and Dr Irene Glendinning from Coventry University emphasised the privacy, copyright and accuracy issues with AI, as well as the inadequacy of AI detection tools. Dr Benjamin Liu from University of Auckland and Kim Pettigrew, University of New South Wales, Australia, as legal experts, discussed the implications of students and researchers using AI, in particular issues of data privacy and intellectual property rights.
International collaborations on academic integrity
Many sessions involved international collaborations and exchanges. One session between Emma Duke-Williams, University of Dundee and Dr Laura Lane, Brock University, Canada, presented a strong example of the value of an international exchange about institutional approaches, staff concerns and ended with the message that academic integrity should not be taken over by AI.
Summary
The day was varied, full of insights and expertise, as well as inspiring and community building. We worked hard to 'Champion academic integrity in the age of AI' with 18 sessions over a 15-hour period, and over 1,000 attendees across the day. If you missed it or would like a recap, the recordings of each session are available via the International Day of Action for Academic Integrity. I hope you will join us next year!