Higher education to empower #GenerationRestoration

---
Dr Mark Nason
Head of Eden Project Learning, Cornwall College Group
Generation Restoration is a movement led by young people who are helping to bring about change towards creating a healthy and sustainable planet. In this blog, Dr Mark Nason, Head of Eden Project Learning at the Cornwall College Group and a member of QAA's Access Recognition and Licensing Committee, talks about the vital role that further and higher education plays in supporting this goal through courses, such as those offered by Eden Project Learning, leading to careers in conservation and ecology.
Providers of further and higher education play a critical role in mobilising and empowering the #GenerationRestoration needed to lead humanity's response to climate change and biodiversity loss. The UN Decade on Ecosystem Restoration began last year, with the aim by 2030 of preventing, halting and reversing the degradation of ecosystems. Climate and biodiversity are inextricably linked, and to achieve COP26 objectives of limiting catastrophic warming, we should focus on nature-based solutions. Education can develop both the evidence-base to support activities and the technical expertise needed by the ecology sector, but we must embrace new models of delivery to improve equity of access to both training and careers in ecology.
The ecology sector is in crisis
An overdue but welcome prioritisation of the environment means that employers need to recruit and upskill, or risk failing to protect and restore nature. Last year, both the Chartered Institute for Ecology and Conservation, and MPs highlighted how a severe shortage of trained ecologists is hampering efforts to oversee biodiversity policies and rendering them 'toothless'. There are regularly 500 'ecologist' vacancies on Indeed.com, in comparison to a handful of jobs in conservation when I graduated from my ecology degree in 1999. Emsi predicts a 1.3% increase in conservation professional roles between 2022 and 2025. The role of the sector and expectations for what can be achieved has also changed drastically. Activity and skills were driven through requirements to conserve species and habitats, and mitigate loss. Now, there is an enhanced focus on restoring multiple ecosystem services, balancing element cycles, and achieving Biodiversity Net Gain through restoration and rewilding. Ecologists need to engage stakeholders, design habitats that sequester carbon, prevent pollution of our rivers, and provide sufficient quantity, quality and connectivity for resilient communities of organisms facing climate change.
Learning in Eden
Eden Project Learning is a partnership between one of the largest providers of further education - The Cornwall College Group - and the Eden Project, delivering applied courses in one of the UK regions of least participation in higher level study. At the iconic site in Cornwall, where a disused clay pit was transformed into a global garden, we began by teaching degrees in horticulture. From a handful in 2015, we now host over 200 students, with progression from Plant Science and Garden and Landscape Design degrees to MSc programmes in Land and Ecological Restoration (Plymouth), and Sustainability (Anglia Ruskin).
Last year we became the first provider of the Level 7 Ecologist Apprenticeship, a nationwide offer, teaching MSc Land and Ecological Restoration through four intensive residential field courses in Cornwall with online learning in-between. This April, we hosted apprentices from a range of employers including the Environment Agency, Woodland Trust, Balfour Beatty, local authorities, and ecological consultancies. The apprenticeship represents an unrivalled opportunity to reduce barriers to participation in postgraduate study (apprentices earn a wage and do not pay fees) and to improve knowledge exchange between employers, students and academics, at a time when the sector is changing so rapidly that it is challenging to maintain currency.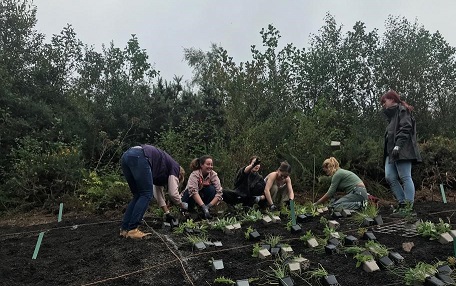 The spirit of regeneration and restoration run as a thread throughout all Eden courses, aligned to our mission to reconnect people and nature. After a period of poor health and inspired by the restorative power of her own back garden, Amanda Baines returned to college as a mature student, in her words to 'reclaim a part of myself'. Starting with GCSEs in English and maths, she completed an Access to Higher Education Diploma before becoming one of the first students to graduate from Eden with a BSc in Horticulture, then a Master's degree in Land and Ecological Restoration. Her postgraduate research evaluated the impact of atmospheric nitrogen deposition on the crucial interactions between plants and pollinators.
Ecological grief and practical action
Students are vulnerable to eco-grief, and we should never underestimate the feelings of helplessness and frustration arising from a lack of opportunities to take practical action to make a difference. Providers should ensure that content is applied and assessment is authentic - it's not realistic to expect students to take time out from paid work to complete a substantial amount of volunteering to gain experience, nor to be able to meet the costs of travelling to field sites. Essential criteria for ecology jobs include survey skills, the ability to assess the condition of a habitat, to write reports, and to drive. There's a great opportunity here for providers to work with employers to provide live project briefs, adopt sites for long-term monitoring, and study the effectiveness of techniques used by ecological restoration practitioners. And yes, I am writing an optional driving module to help unlock the competency most frequently stated as essential by employers, yet increasingly out of reach for many of our students.
In 2019, our students established a Society for Ecological Restoration Student Association - the first in the UK and one of the largest globally. This provides a vehicle for engaging students across all programmes in practical restoration and outreach; it connects our students to a global community of restoration practitioners, resulting in opportunities for cultural exchange and for our students to present and chair sessions at international conferences. Through the society our students have collected seeds and grown native trees for temperate rainforest restoration, they have inspired primary-aged pupils through a Royal Society Partnership Grant, and they have enhanced their employability through developing practical skills. They have also shared their learning and helped other institutions establish their own groups.
Most importantly, they are empowered to make a difference, to support each other and to lead #GenerationRestoration.
For more information on career opportunities in conservation and ecology, visit our Career Coach website which also contains information on relevant Access to Higher Education courses that can help you towards your dream career.