29 September 2020
A local, resilient and agile mechanism to deliver more flexible education

---
Professor Sue Rigby
Vice-Chancellor, Bath Spa University, and QAA Board Member
In today's speech by the Prime Minister he sets out plans to 'transform the training and skills system'. A centrepiece of the package of measures, alongside proposals to offer free college courses and digital 'boot camps', is a commitment to lifelong learning, introducing greater flexibility in higher education provision and funding. In my opinion, moving towards a more granular set of education opportunities for post-18 learning, with students able to step between education and the workforce, will bring transformative beneficial change to the way we approach higher education in England.
Over the summer, I was delighted to be asked by QAA to work with experts across the higher education sector to Chair a review of the English credit framework. The group will consider how the credit framework can be developed to allow a more flexible approach to learning. I also see this work supporting a wider, ambitious agenda, with increased synergy between higher education and further education. The work of this group is ideally suited to support the Government's ambition to deliver post-18 education and training for a post-COVID economy.
In achieving this I see partnership between the higher and further education sectors. The autonomy of universities to design and deliver high quality courses to meet local demand can be coupled to college's close links with local communities, to meet the Government's agenda in delivering flexible, local and employer-relevant education.
This summer, we have seen that what works is local, agile and rooted in autonomous bodies. As an example, degrees were awarded normally this summer, A-levels were not. This is perhaps part of a wider truth in education, that what works tends to be close to the point of delivery and hence responsive and agile. A university can design a new degree, or a new training course, to meet the needs of employers in a few weeks if necessary, but degree apprenticeships were too unwieldy and bureaucratic to deliver effectively.
How the current system works and can be readily adapted
Universities, and some larger colleges, hold degree awarding powers that allow them to develop, deliver and assess their own degrees using the Credit Framework as a template and under the oversight of QAA and the Office for Students. Many universities then 'lend' these qualifications to other providers and oversee quality of provision on their behalf.
These degrees are designed as unitary entities, a (typically) three-year, 360 credit entity with overarching and more granular learning outcomes. A learner can leave part-way through a qualification, but only in exceptional circumstances usually related to academic failure. Individual units of learning can be interesting, formative and profoundly useful, but none are a self-standing qualification. Uncommonly, degrees are designed to sit on top of existing HN qualifications, but this is an unwieldy solution as the design purpose of each is distinct and disjunct. Some enterprising universities already use the Credit Framework to design novel and bespoke degrees. The framework allows this process to go much further.
A minor change in approach could revolutionise this model and enable it to deliver to a radical Government agenda. Qualifications could be designed in a truly modular manner, and from the bottom up rather than the top-down. A sequence of granular qualifications, at sequentially higher levels of study, could lead to a range of qualifications up to, but not necessarily including, degree level. A learner could opt to leave this system with high quality qualifications at any level and after a flexible period of time. Later, as their needs changed, a learner could re-enter the system and continue learning either more broadly or to a higher level. The difference between the two systems is illustrated below.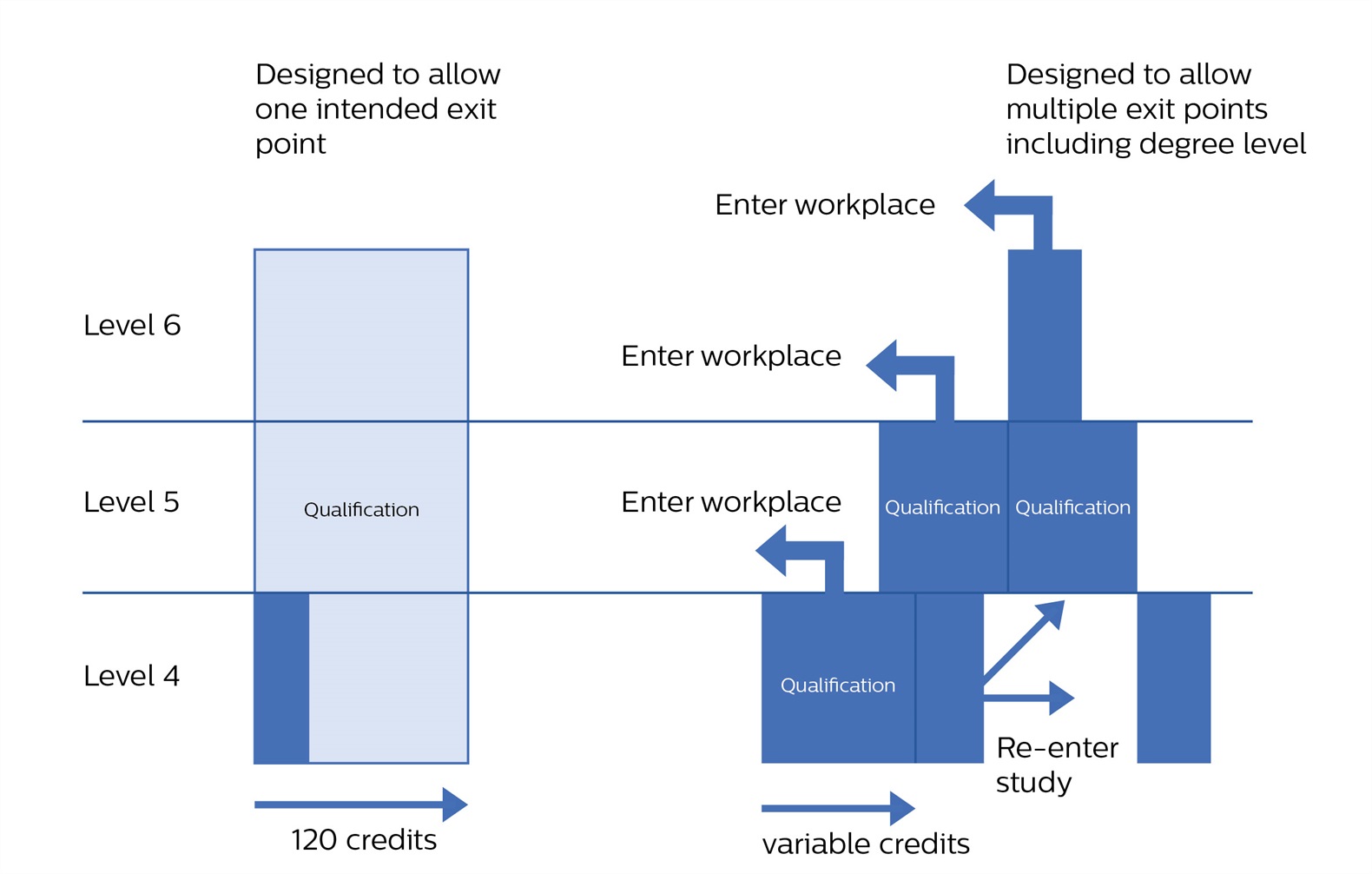 Traditional degree design on left, a singular entity delivered in a modular manner, but with only one exit point and one qualification. Novel delivery on right, a more flexible entity comprising qualifications at multiple levels, capable of aggregation or extension sequentially or over a longer period of time.
Such granular qualifications could be delivered by partnerships between FE and HE, utilising the strengths of the college sector in their flexibility of delivery, cost-effectiveness and deep understanding of the local economy, and the ability of universities to design qualifications quickly, locally and resiliently.
Why is this clever and practical?
The system already exists.
The partnerships to deliver this exist in many parts of the country.
A local approach means place is an essential part of the design.
Closing the quality assurance loop close to delivery promotes resilience and agility.
This idea is simple and familiar in FE and HE and would be quickly adopted.
What about oversight?
The high levels of bureaucracy around externally validated qualifications ensure direct oversight of quality. This can be achieved in a more local process through target-setting for qualifications - effectively through outcomes-monitoring, which is familiar in both the Department for Education and Office for Students. A highly focused, clear and managed set of monitoring would see qualifications delivered without grade inflation and to a uniformly high standard without the need to separate, for example, evaluation from assessment design and delivery. The system is regulated but agile.