Prepare for the Virtual Fair
Virtual fairs can be daunting and you may feel that you are lacking in confidence. By following the tips laid out below you will have the necessary tools to get the most out of a virtual fair.
Go into them with a clear idea of what you want to achieve and having researched participating employers
Use the steps below to ensure that you have the right setting to have impactful conversations
Have fun! Fairs are not as high-pressured as interviews.
This section links to the "Skills and Goals" section on the Virtual Fairs Action Planner.
Setting up the fair platform and building out your schedule
Virtual fairs require more preparation than face-face events as you have to create a profile (which helps employers target you) and book yourself in for appointments or talks. Only booking 1 or 2 appointments with employers whose name you recognise is a common mistake, make sure you don't make it!

Copy information in for your Profile from your CV or LinkedIn
Book sessions to speak to as many employers as you can. Use the sector and diversity focused filters to identify all that are relevant to you.
Your device and location
Employers are hoping to make a face-face connection online. The information below and in the FAQs section is designed to help you feel confident and equipped to turn your camera and communicate with impact.
Identify a quiet space, with a good internet connection and turn your camera on
If you cannot do this at home contact your university careers team to find somewhere on campus or use a local library/ café
When you've set up your device and tested it, check how your background looks. Make sure it is clean and clear of any distractions
Use a PC or Laptop rather than a phone and a platform- compatible browser (usually Chrome or Edge).
Reasonable adjustments
Virtual fairs and conversations can be especially difficult for students with disabilities
Fair organisers and employers will do their best to make adjustments to help everyone get the most out of the fair
Reach out with confidence to the fair organisers as soon as you can to ask for the adjustments you will need. Remember that inclusive employers will be keen to do everything possible to support your experience.
Researching employers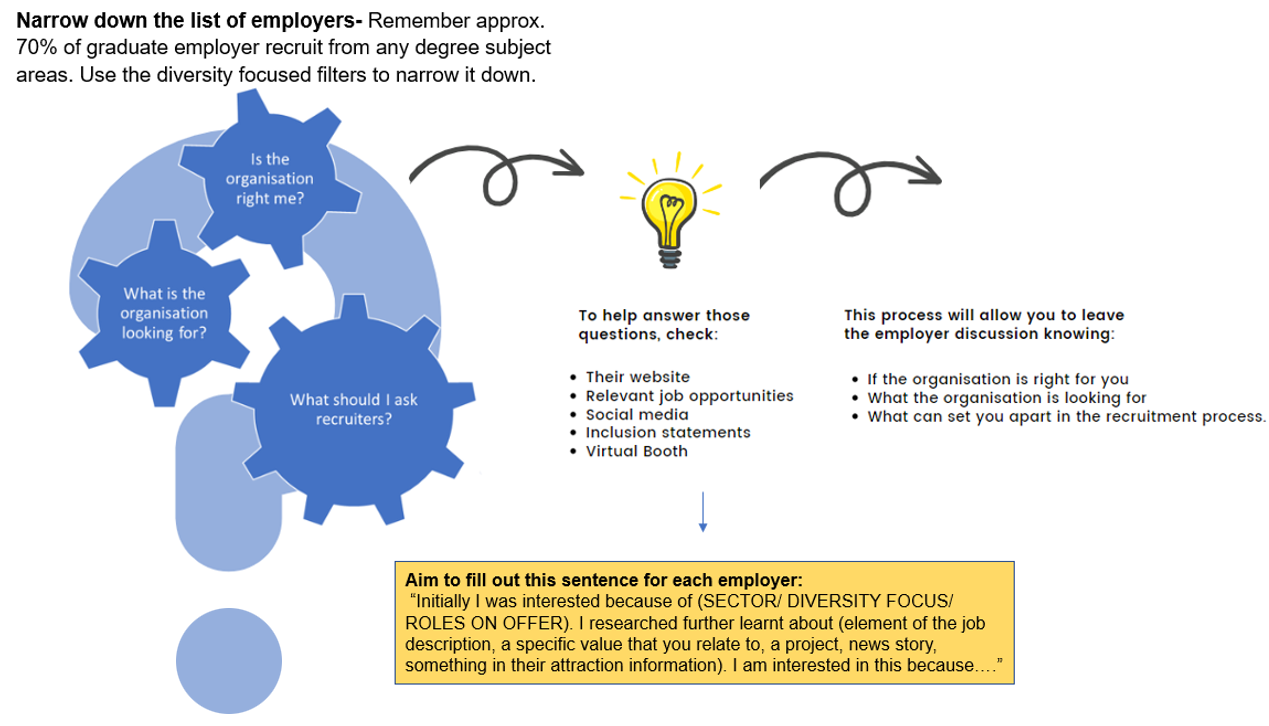 Why are you attending this event?
Use the prompts in the Virtual Fairs Action Planner to create your own goals and aims
This will help you place the importance of the fair within your longer term ambitions.
Reflecting on and articulating your skills and achievements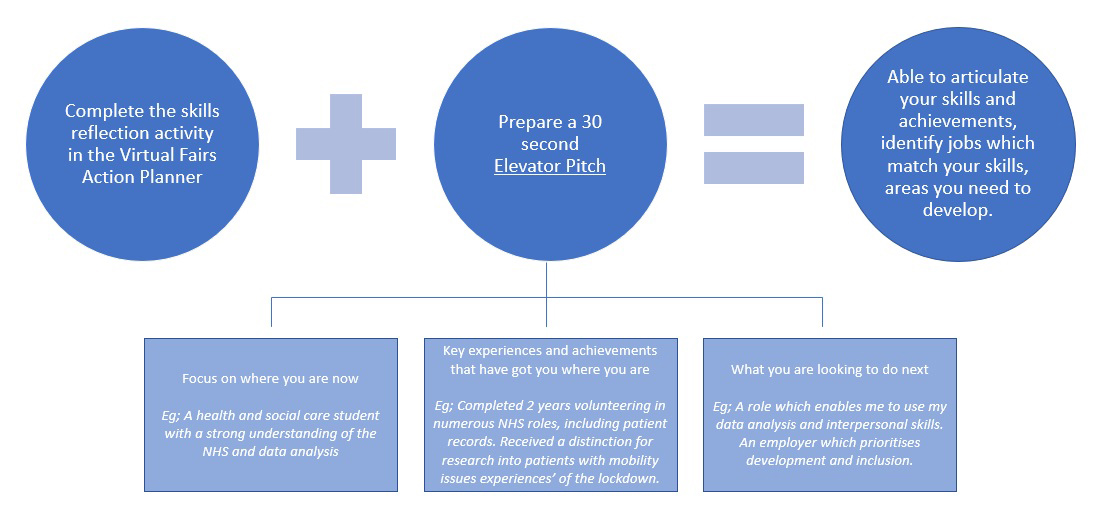 These resources can help you if you need further support: