International Quality Review (IQR) has been specially developed to provide institutions outside the UK with an independent peer review leading to accreditation by QAA. IQR tests whether an institution meets the 10 European standards of the Standards and Guidelines for Quality Assurance in the European Higher Education Area (ESG).
What does QAA Accreditation Mean?
A successful IQR means that you are officially accredited by QAA. You will be able to use the IQR Accreditation Badge on your website and marketing materials, which shows that you are accredited by us against internationally recognised standards.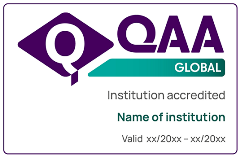 Our Review enabled us to assure students and parents that all our programmes meet European standards. We are delighted to display the logo, which enhances our Institute's reputation, competitiveness and global image.
Dr Vong Chuk Kwan
President Institute for Tourism Studies, Macao
International Quality Review accreditations
Find out more about our completed International Quality Reviews around the world using the map below. Open the legend by clicking on the menu button in the top left, then either select the label on the side navigation menu or click on a university logo on the map, to find out more information.
International Institutional Accreditation for ACE Impact
The Africa Higher Education Centers of Excellence (ACE) is the first World Bank project aimed at capacity building of higher education institutions in West Africa. The ACE Impact Project was initiated to strengthen the quality and quantity of postgraduate education and applied research, in areas that are essential for Africa's economic growth.
IQR for ACE Impact has been specially developed by QAA to provide ACE Impact institutions with an independent peer review, leading to institutional accreditation by QAA.
Full details are available in the Training and Services section of our website.