QAA unveils design for new quality enhancement kitemark for UK TNE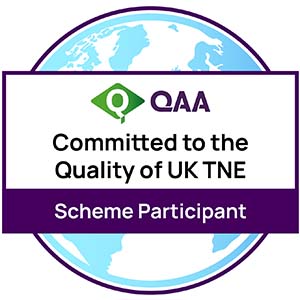 QAA has today publicly unveiled the design of the new QE-TNE Kitemark

The Quality Evaluation and Enhancement of UK Transnational Higher Education (QE-TNE) Scheme opened for registration on 17 May and UK degree-awarding bodies are encouraged to sign-up online to take advantage of the benefits of the scheme.
The QE-TNE Kitemark will be awarded to every degree-awarding body that participates in the Scheme, as well as their overseas partners. Its issue is subject to adherence to the terms and conditions of the QE-TNE Scheme. The Kitemark will be a public demonstration of that institution's commitment to quality and enhancement. Only the QE-TNE Kitemark carries the backing and endorsement of sector agencies Universities UK and GuildHE.
The QE-TNE Kitemark will be institution wide and not programme specific. It can be used for the entire provision by an institution across all partners as a demonstration of the commitment to quality and enhancement, regardless of which individual countries are selected for review in the Scheme.
Not only will participants in the Scheme benefit from the QE-TNE Kitemark, but they will also have exclusive access to insights into overseas markets, a suite of published reports, toolkits, thematic analyses, guidance and dissemination workshops drawn together by QAA throughout the Scheme's duration.
Since the Scheme opened for registration in May, several of the UK's largest TNE providers have already signed up.
A full overview of what's on offer as part of the QE-TNE Scheme can be found on the QAA website including details of how degree-awarding bodies can register.