Launching QAA's new strategy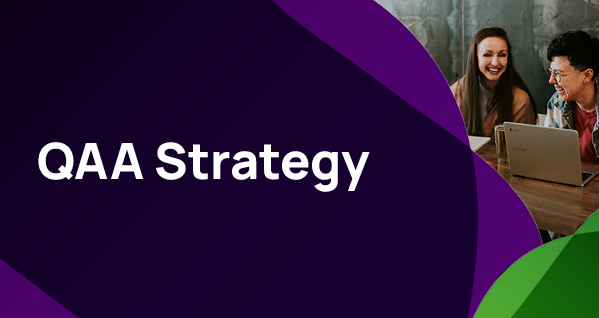 ---
Vicki Stott
Chief Executive, QAA
Today QAA launches its new strategy, 'Excellence, independence and trust in quality assurance and enhancement'. This is a significant step forward from our previous strategy, so I'd like to highlight three areas that have changed.
First, we've responded to a changing policy environment in all nations of the UK, but most obviously in England, where our decision to step away from our role providing reports for the Office for Students gives us a new opportunity to help universities and colleges navigate the regulatory environment, and to offer new services beyond our successful and growing membership programme.
Second, we've positioned the Agency to serve the needs of an increasingly integrated tertiary sector throughout the UK, in which higher education and further education are coming together in support of lifelong learning and to address skills needs in the economy.
And third, we're expanding our international work, not only in response to demand for our services such as International Quality Review, but also because we see the positive impact of our work on behalf of the UK sector, underpinning international partnerships and transnational education.
We've spoken to a huge number of stakeholders in developing this strategy, and I'd like to thank them for their input. QAA will always protect and preserve its independence and impartiality, but we also continue to believe there is enormous value in a constructive and collaborative relationship with the sector. The needs of universities and colleges, and ultimately of students and learners, are best served by an independent quality body that has a track record of identifying and addressing issues as well as highlighting excellence.
At a time of rapid change in tertiary education, with the move towards hybrid and blended teaching and learning being quickly followed by the rise of generative artificial intelligence (AI), and with an ever-evolving policy environment in all nations of the UK, QAA's expertise as a world-leading impartial, independent quality body is more relevant than ever. I hope our new strategy, and the supporting information we're publishing with it, explain that relevance and demonstrate how we're applying our longstanding principles and values to the challenges of today and tomorrow.