The impact of the pandemic on Higher Education – a Canadian perspective on digital learning

---
Dr. Nicole Johnson
Research Director of the Canadian Digital Learning Research Association (CDLRA)
Dr Nicole Johnson is the Research Director of the Canadian Digital Learning Research Association (CDLRA) and has been involved in the field of educational technology since 2010. Dr Johnson presented at the Higher Education Investment and Recovery (HEIR) Fund: QAA Sharing Practice event on Wednesday 15 September, and shared research from Canada that described the evolution of digital learning during the COVID pandemic
In this blog, Dr Johnson talks about the research and how the pandemic has influenced digital learning.
The COVID-19 pandemic has proven to be a major turning point for digital learning in Canada.
Findings from annual surveys conducted by the Canadian Digital Learning Research Association (CDLRA) show that the proportion of courses delivered in a fully online formation rose from 10% in Fall 2019 to 81% in Fall 2020. Most faculty members had little to no training or experience with teaching online prior to the pandemic.
As of Fall 2021, Canadian post-secondary students have been able to return to in-person learning; however, data from the 2021 National Survey of Online and Digital Learning indicates that digital learning options will be far more prevalent than prior to the pandemic. The chart below shows that hybrid (partially online) offerings, a greater use of technology for teaching and learning, and a greater use of digital teaching materials are very likely to be offered by roughly half of the institutions surveyed.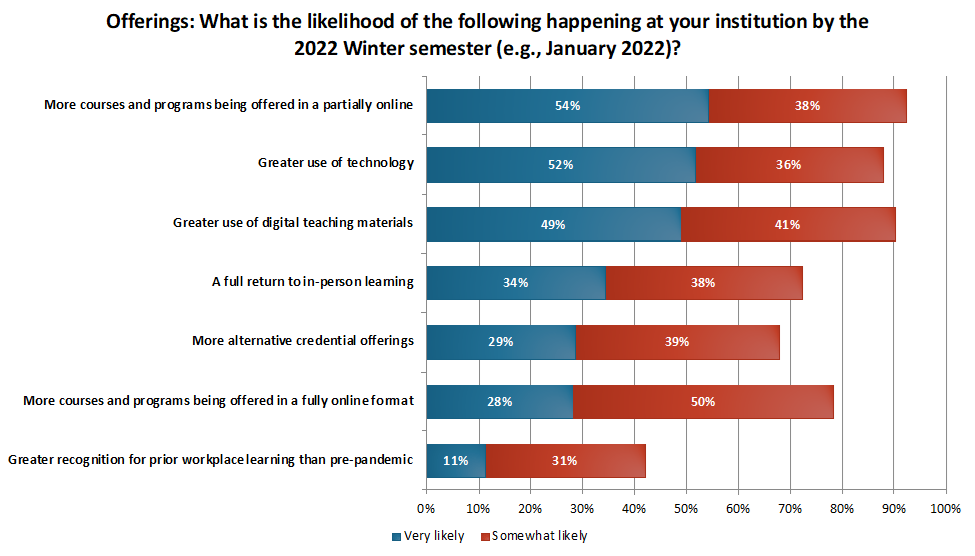 Professional development related to digital learning will also be given priority going forward. Nearly all responding Canadian post-secondary institutions (95%) expect to provide further professional development for faculty on the topic of digital learning in the 2021-22 academic year.
As we continue to navigate the pandemic, challenges persist. The 2021 National Survey of Online and Digital Learning asked respondents to identify their most pressing challenges for the year ahead. As seen in the chart below, the mental health and assessment in online contexts were by far the top concerns.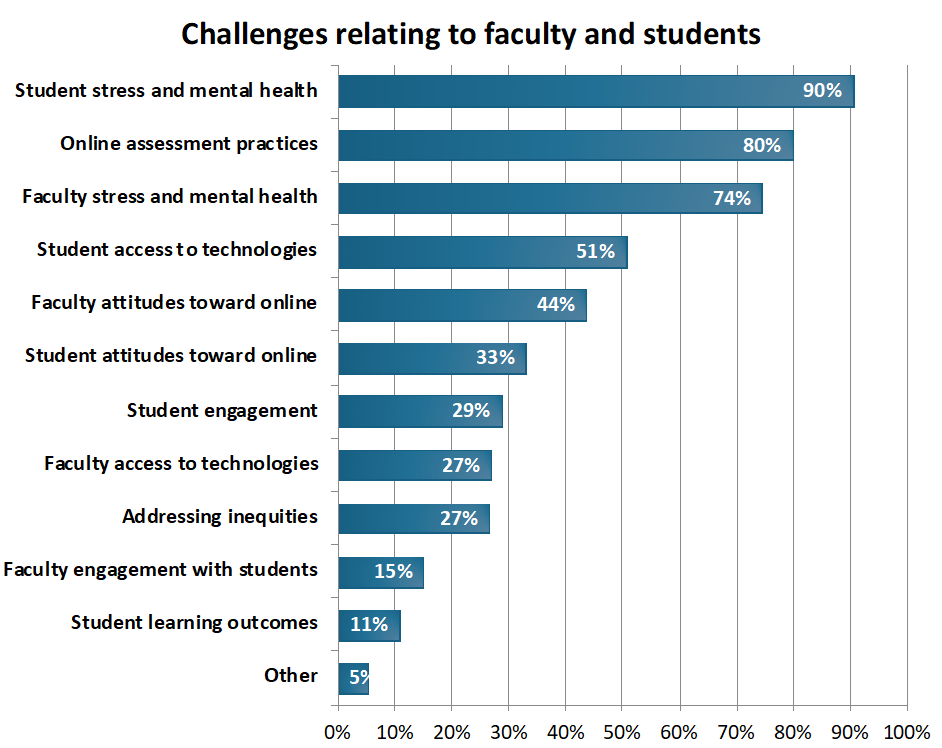 Finally, as digital learning continues to evolve and as new practices emerge, there is a pressing need to operationalize and develop common definitions for key terms related to online learning.
Roughly one-half of the institutions that participated in the 2021 National Survey of Online and Digital Learning reported that they did not have a common, institution-wide definition for the terms online learning and hybrid learning.
To better track the growth of different modes of course delivery going forward, the CDLRA has proposed the Modes of Learning Spectrum, which is a framework for categorizing commonly used terms related to digital learning. The full report that describes the development of the framework and each aspect of the framework in more detail is available at: http://www.cdlra-acrfl.ca/2021-cdlra-definitions-report.
The Modes of Learning Spectrum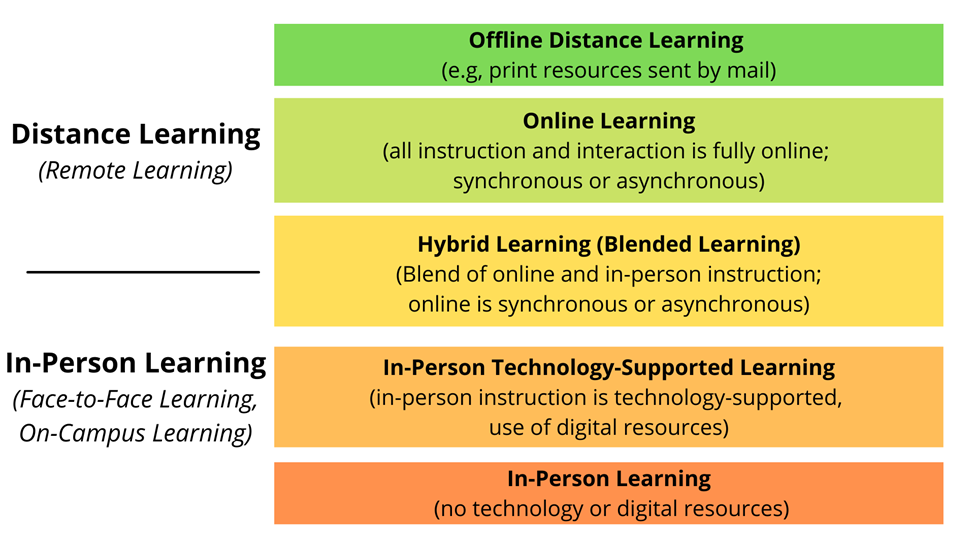 As stated in the report, the Modes of Learning Spectrum is "designed in such a way that the definitions will hold their meaning over time (as technologies and ways of teaching and learning continue to advance). The framework is deliberately broad and enables consistent classification of different modes of learning based on the characteristics of that mode, despite what that type of learning might be called at an individual institution."
Canada is a diverse, geographically large, bilingual country. Within the common trends and challenges is a call to keep issues of access and equity at the forefront. Although the mass shift to online course delivery created new barriers for some students and faculties, it quickly became apparent that teaching and learning in an online context removed barriers for others. Developing common language for describing different modes of course delivery facilitates better collaboration among faculty, institutional decision makers, and policy makers to improve quality, accessibility, and innovation within post-secondary learning experiences.