27 October 2021
Scotland's Enhancement Theme: Resilient Learning Communities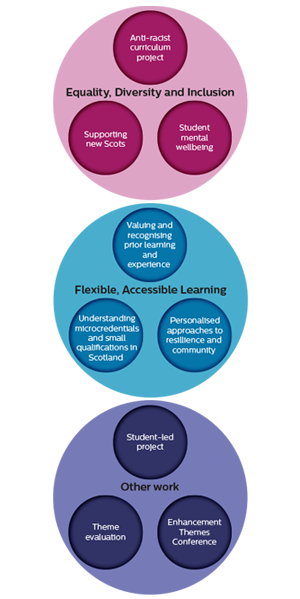 Debra Macfarlane
Quality Enhancement Manager, QAA Scotland
Debra Macfarlane, QAA Scotland's Quality Enhancement Manager, looks back over the first year of the Resilient Learning Communities Enhancement Theme and sets out plans for the coming year.
This last year has been a year like no other and one in which we've collectively been able to explore the meaning of resilient learning communities and demonstrate the real value of Enhancement Themes work to the sector.
The Themes are an important symbol of the genuine spirit of collaboration across the sector in Scotland and the recognition that we are stronger when we work together to meet common challenges – and there is plenty of them in the current climate. We're very grateful to the incredible teams who contributed to this work and who helped move the sector forward and continued their critical work on the Theme, despite the challenges of the pandemic.
The pandemic seemed to touch every area of our lives and it's had a wide-ranging impact on higher education. From the drive to ensure that students could continue with their studies during lockdown, to how virtual campuses changed the overall student experience, and what it meant for learners preparing to start university in this 'new normal'.
We've been able to explore these impacts (and more) in the Theme projects. One project in particular focused on Scottish Sector learning from COVID-19; gathering together evidence to help us understand how the sector responded and learn from what worked in the face of challenge. Another explored the digital divide and what it means for inclusion. The student-led project, delivered in partnership with sparqs, looked at how student communities, such a vital part of the student experience, were recreated online during the pandemic.
Looking ahead to the second year of the Theme, we will continue to explore areas to improve the mental wellbeing of students, to champion equality and inclusion and to ensure that flexible and accessible learning is available to all, no matter their what their background might be.
You can explore outcomes from the first year of Resilient Learning Communities on the Completed Projects area of the website, and plans for the second year of the Theme on the updated Resilient Learning Communities page.
The Enhancement Conference will take place on 8-9 June 2021. More information on how you can register to attend will be available soon.