Working alongside Universities UK (UUK), GuildHE and an expert advisory group, QAA is undertaking a review of external examining practice within UK higher education.
The review, which commenced in October 2021, examines the use of external examiners as a core component of institutional processes for assuring academic standards in UK higher education. The aim is to develop a set of principles for effective external examining with the intention of these being agreed by the UK Standing Committee for Quality Assurance (UKSCQA) and appended to the Statement of Intent on Degree Classifications.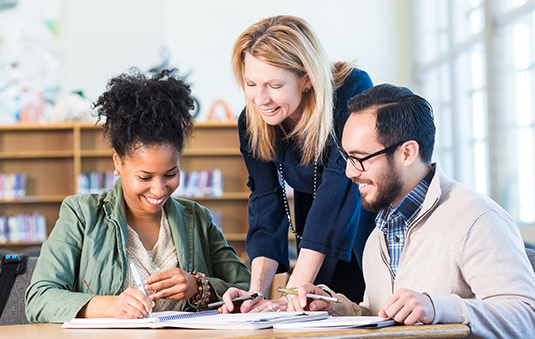 QAA has gathered views from a range of stakeholders including academic staff, quality professionals, students and external examiners themselves via a survey and a series of roundtable discussion events. The survey, which was carried out between December 2021 and January 2022, received responses from 44 higher education institutions. Over 170 individuals engaged with one of our four roundtable discussion events held across December 2021 and January 2022. QAA also engaged with students and student representatives through our Student Strategic Advisory Committee and with professional, statutory and regulatory body (PSRB) representatives during a workshop held as part of our regular PSRB Forum.

Conversations to date have highlighted the essential role that the external examining system plays in supporting the maintenance of academic standards and upholding the reputation of UK higher education, and the sector retains a strong confidence in the value that the external examining system brings. It remains a vital mechanism in helping to ensure that the academic standards students achieve meet providers' expectations and are comparable between institutions.
At the same time, the feedback indicated that there are ways in which the system could be enhanced, including:
reaffirming that the role of the external examiner is key in ensuring that standards are being met
considering the full scope of the role beyond assuring providers that academic standards are being met, for example acting as a 'critical friend' to the course or subject team on matters such as assessment design and marking descriptors
helping students and other stakeholders to have a better understanding of the external examining system and the role it plays in protecting their interests
providing more sector-level advice to:

help bring greater consistency across providers in relation to training and induction for examiners, reporting, actioning and providing feedback
provide greater clarity around conflicts of interest and reciprocal arrangements
share approaches for external examiners engaging with students as part of their role.
Dr Ailsa Crum, QAA's Director of Membership, Quality Enhancement and Standards commented: 'The external examining system is a key characteristic of UK higher education involving a network of several hundred examiners. Through this review, we want to ensure the role of the external examiner can be more widely understood, particularly by students and those outside the HE sector. We are grateful to all those who have given their time to engage with us in ensuring we collectively continue to realise the value external examiners bring to the sector in securing standards and constructively challenging course teams.'
Professor Clare Peddie, Vice-Principal Education (Proctor) at the University of St Andrews and chair of the External Examining Advisory Group said: 'External examiners provide valued, constructive feedback and play a vital role in ensuring that degree awarding processes are fair, transparent and reliable. The outcomes of this review will help to ensure that external examining remains a valued component, continuing to inspire confidence in UK higher education.'
QAA is undertaking this review in its capacity as a membership organisation. The agreed principles on external examining will be published later in the year.