Call for Expressions of Interest
Following two successful rounds of Collaborative Enhancement Projects, we are delighted to invite QAA Members to participate in a project in 2022-23.
Collaborative Enhancement Projects offer a fantastic opportunity for QAA Members to work together to explore areas of shared interest and engage students. Each project will not only benefit the partners directly involved but should develop outputs to support the wider higher education sector - better still, we offer funding of up to £10,000 to each project team.
This year, we are particularly interested in projects that address the following topics: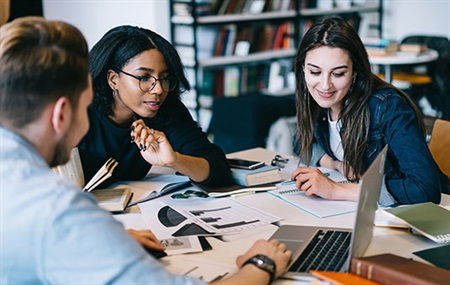 Classifying student achievement
How do you measure student success? How are institutions developing approaches to classify, record and report on student achievement? What approaches are institutions taking to identify educational gain? Should we apply different approaches for recognising knowledge acquisition compared to skills or competencies?
Future approaches to pedagogy
How can some of the key opportunities and challenges of hybrid delivery be successfully navigated? How can we ensure we are providing a positive learning community for all student groups? What is the role and purpose of on-campus activity in blended or hybrid delivery models? How can issues arising from digital poverty be addressed successfully through curriculum design? What are the implications of staff with different roles being based in different locations and/or having different amounts of time on campus?
Creating flexible work-based learning pathways
How are institutions supporting students to move between work and study through flexible, modular pathways? How can credit be used to support flexible learning and the recognition of prior learning? How can students be supported effectively through very flexible pathways?
Innovative and evolving quality processes
How are quality teams and quality processes evolving? How are institutions developing dynamic and/or lean processes, and how are these being managed? How are institutions engaging students in quality processes (individually and collectively)? How are staff supported to undertake student-staff partnership opportunities?
Evaluation and supporting evidence-based decision-making
How are institutions developing the effective use of qualitative and quantitative data to evaluate their activities? How does data inform decision-making? How can quantitative and qualitative data be used to prioritise interventions and evaluate their impact?
Enterprise, entrepreneurship and global citizenship
How are activities that enable students to develop these skills and attributes embedded in the curriculum or delivered systematically alongside the formal curriculum? How are student intrapreneurs supported during their higher education journeys? How are students supported to become global citizens, using their subject-specific knowledge and skills to contribute meaningfully and thoughtfully to solving global problems?
This is not an exhaustive list, and we will consider proposals relating to other topics that are a priority for you and your collaborative partners.
Full details including funding allocation and selection criteria are available in the Call for Expression of Interest document. Please complete the Expression of Interest Application Form by midday on Tuesday 1 November.
If you have any questions or would like to speak to a member of the QAA team about your project, please email us.
QAA International Members
QAA is also inviting International Members to submit project proposals for consideration under an International Collaborative Enhancement Project fund. Find out more in the International Members section.
Find out more
Current Projects
Find out more about all current projects, and access resources and outputs.